NEoN Digital Arts hereby launches the new online commission by J. R. Carpenter, a hybrid online and print piece called The Gathering Cloud.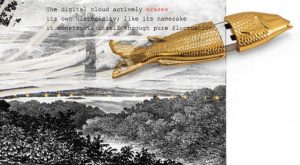 Find it online at http://luckysoap.com/thegatheringcloud.
(note: the work is not yet designed for phone or tablet – it works best on desktop screens.)
The online work brings together Luke Howard's classic "Essay on the Modifications of Clouds" (1803) as well as more recent online articles and books on media and the environment, to address the detrimental impact of so-called 'cloud computing' through the oblique strategy of calling attention to the materiality of the clouds in the sky.
The print work is comprised of a folded A3 zine/map and two postcards, and is available from NEoN, by post, or directly from the artist, in gifts or trades.
To find out more about J.R. and her working practice in our interview here: https://neondigitalarts.com/neon-speaks-jr-carpenter/