In 2010, Japanese artist Akinori Oishi brought his cute little characters to NEoN Digital Arts Festival, for his first solo show in the UK. We caught up with Aki as part of our 'Where Are They Now?' series to discuss the art of happiness, the joy of travel, and what makes someone a 'drawaholic'. 
Your website homepage says 'Smile Characters & Tiny Drawings', which made me smile. Could you tell me a bit more about yourself and your work? 
My name is Akinori Oishi, and I ask people to call me "Aki". Aki is a common name in Japanese, in fact it's more often a nickname for women and it means "bright". It's a charming name, simple to pronounce and it's easy for everyone to remember my name. And I don't mind that it's usually a name for women.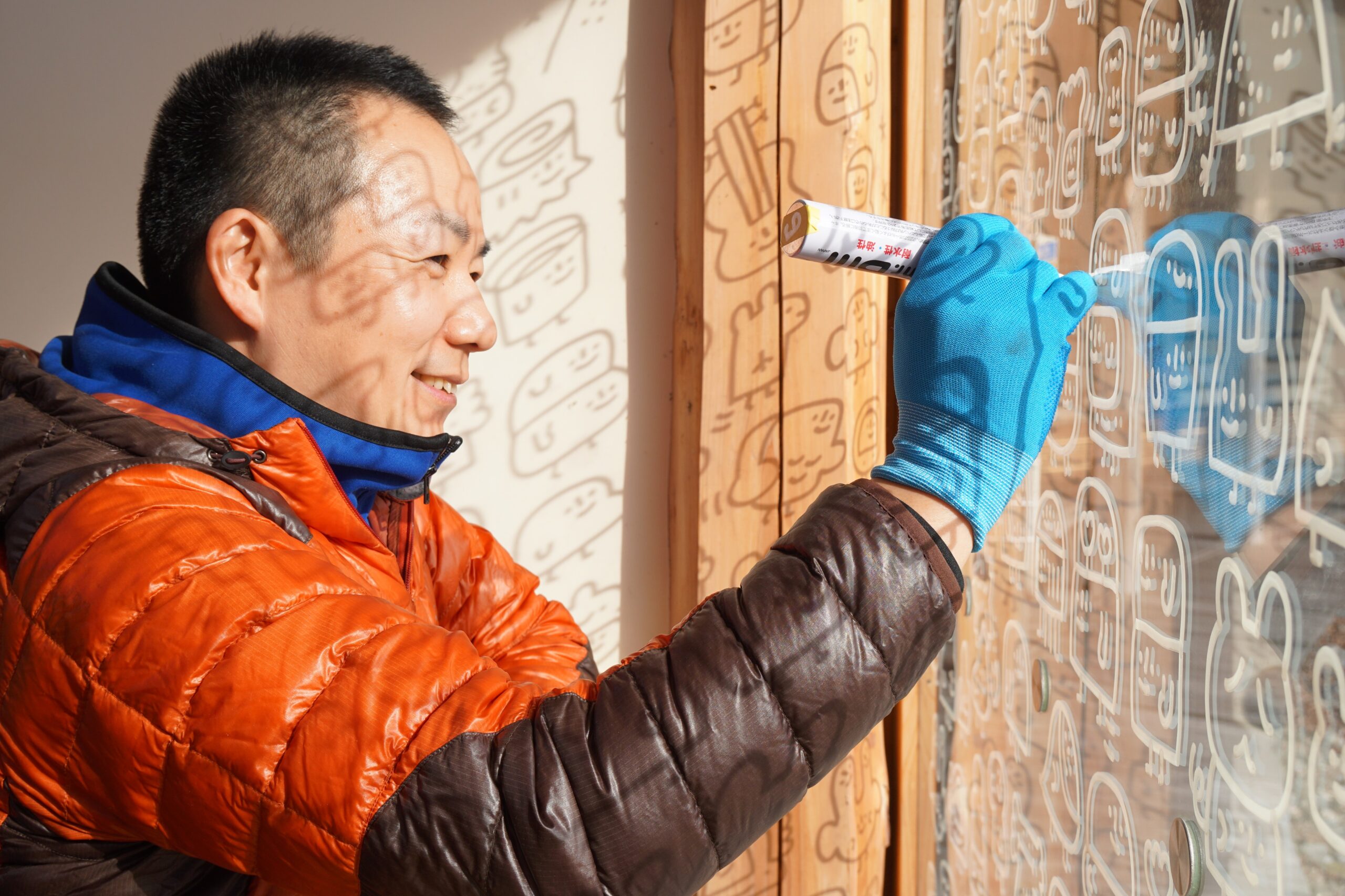 Akinori Oishi (2019) in Japan – "Drawing is fun. I just love my job."
It is important to me that my art is innocent and pure of heart, because my art is for all. Kids, adults, men and women… anyone should be able to enjoy it for themselves. I like to share my smile – my "Aki Smile" – and my happy universe with people all round the world. My tiny characters could live anywhere, in any corner of a person's life.
You took part in NEoN's second ever festival in 2010. What was the experience like? 
It was my first time visiting Scotland and for my solo exhibition in Dundee city, NEoN gave me the first chance to create my own special character that was related to the local things. Scotland has a lot of fairy tales but I found there's not much of a character culture compared to Japan and other Asian countries.  So, I am so glad everyone liked my art and it was very, very nice to work on it and be inspired by the city life and surrounding natural areas.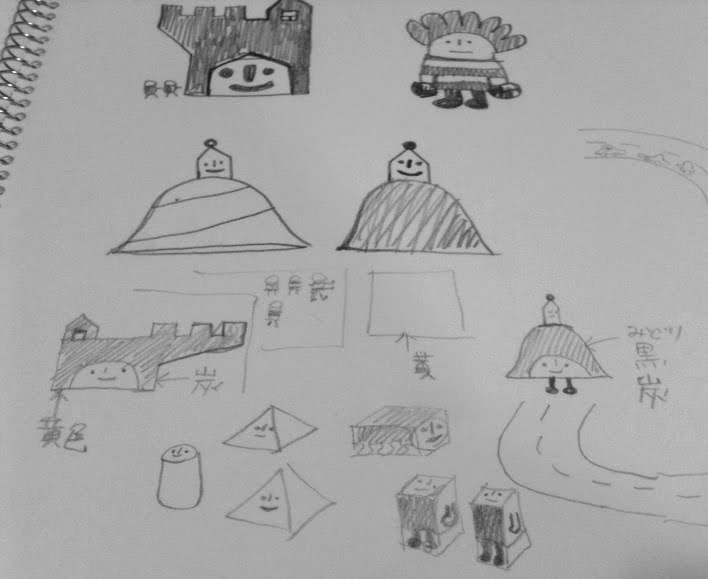 Akinori's first sketch in Scotland (2010) – It is inspired from Dundee and surrounding the city.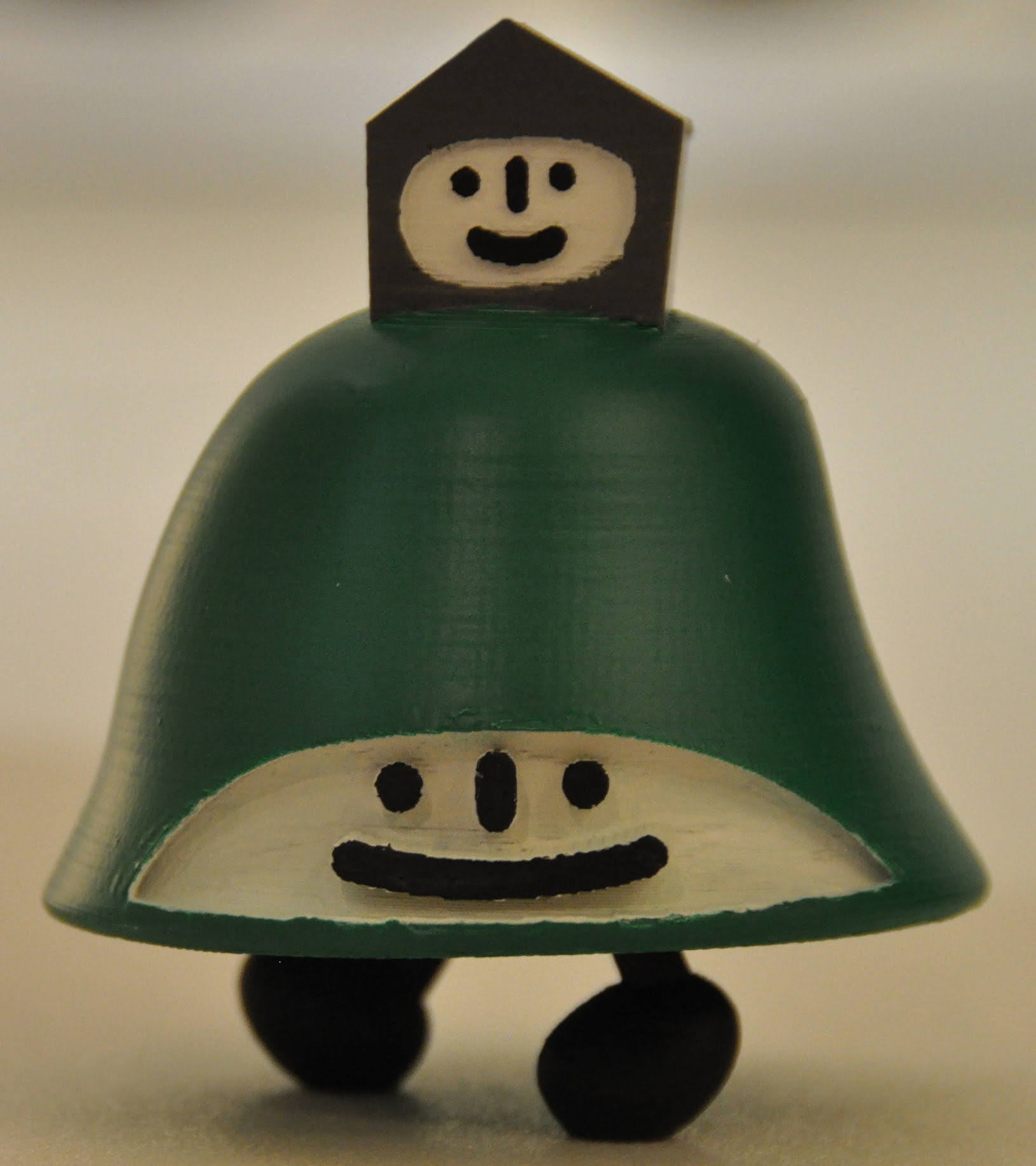 The first prototype of toy figure of Aki's LAWHILL – 3D design by Creo Design from Dundee city (2010)
Where are you based now? 
I am based Osaka in Japan, which is my hometown. However, that is not so important to me and I prefer to say that I work and am based in the universe of the internet. My work partners are from various countries, and I personally want to travel more. Working abroad has been a lifelong dream of mine. After I studied media design in Japan, I found a job in France and lived there for some years.  I had a lot of influences for my art concepts during my time living in France. I had to go back to Japan eventually, for family reasons, but my heart remained in France. If I could have a chance to live in Europe again, I would like to go back. Lately I've been working with more Asian countries, like Taiwan, China, Korea, Thailand, Singapore and Malaysia. Despite all being in Asia they are quite different, all so unique in their own way. I love to learn about their life and culture, in a way it helps me better understand myself and what it means to be Japanese!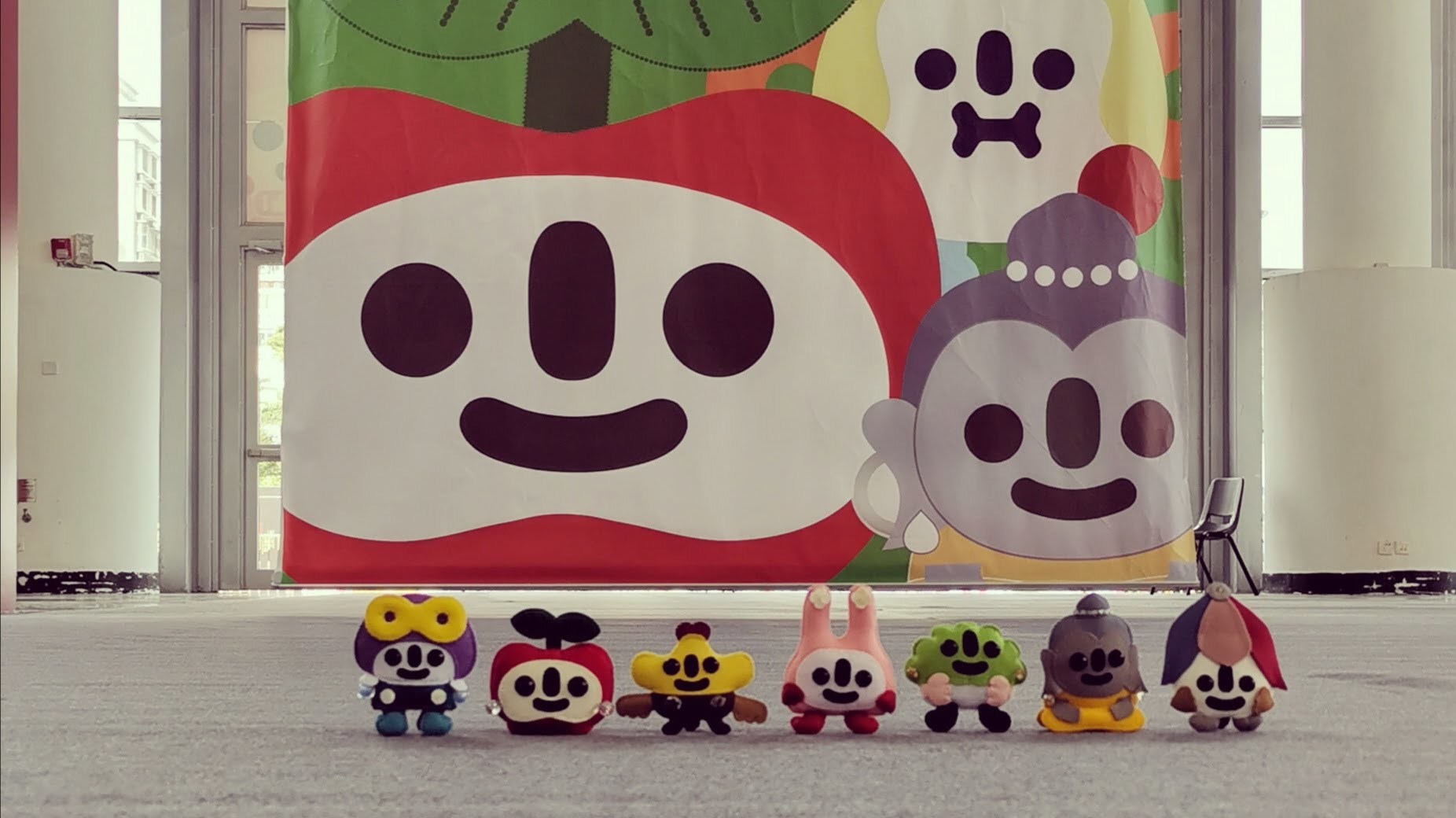 These plush dolls are my "travel character fellows"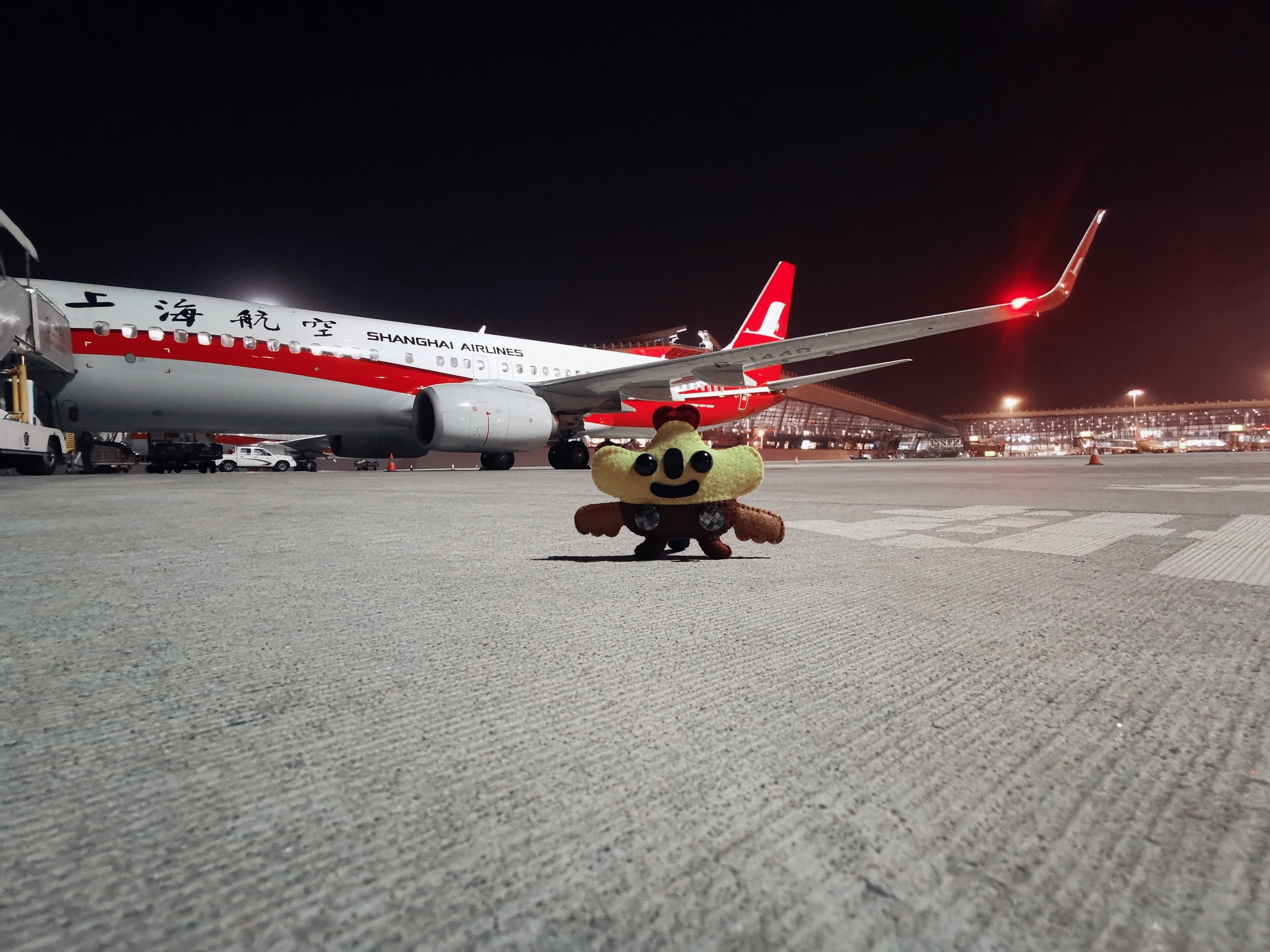 Phoenix at the airport in Shanghai (2019)
How did you get into drawing and when did you develop your signature style? 
My tiny characters are kind of like letters with no meaning, instead they communicate the idea of happiness. This idea is originally inspired by my study of typographic design. For example, A-Z are just letters of the English or Latin alphabet, but different feeling are expressed by using different fonts, which is part of the purpose of their design. I came to really respect the way typography works. As I am an artist, I would like to create a unique typography, a new style of illustration. Since my childhood, I have been captivated by the world around me and outside of Japan. I would always be looking at my world atlas, so my tiny people originally lived within the pages of those types of books.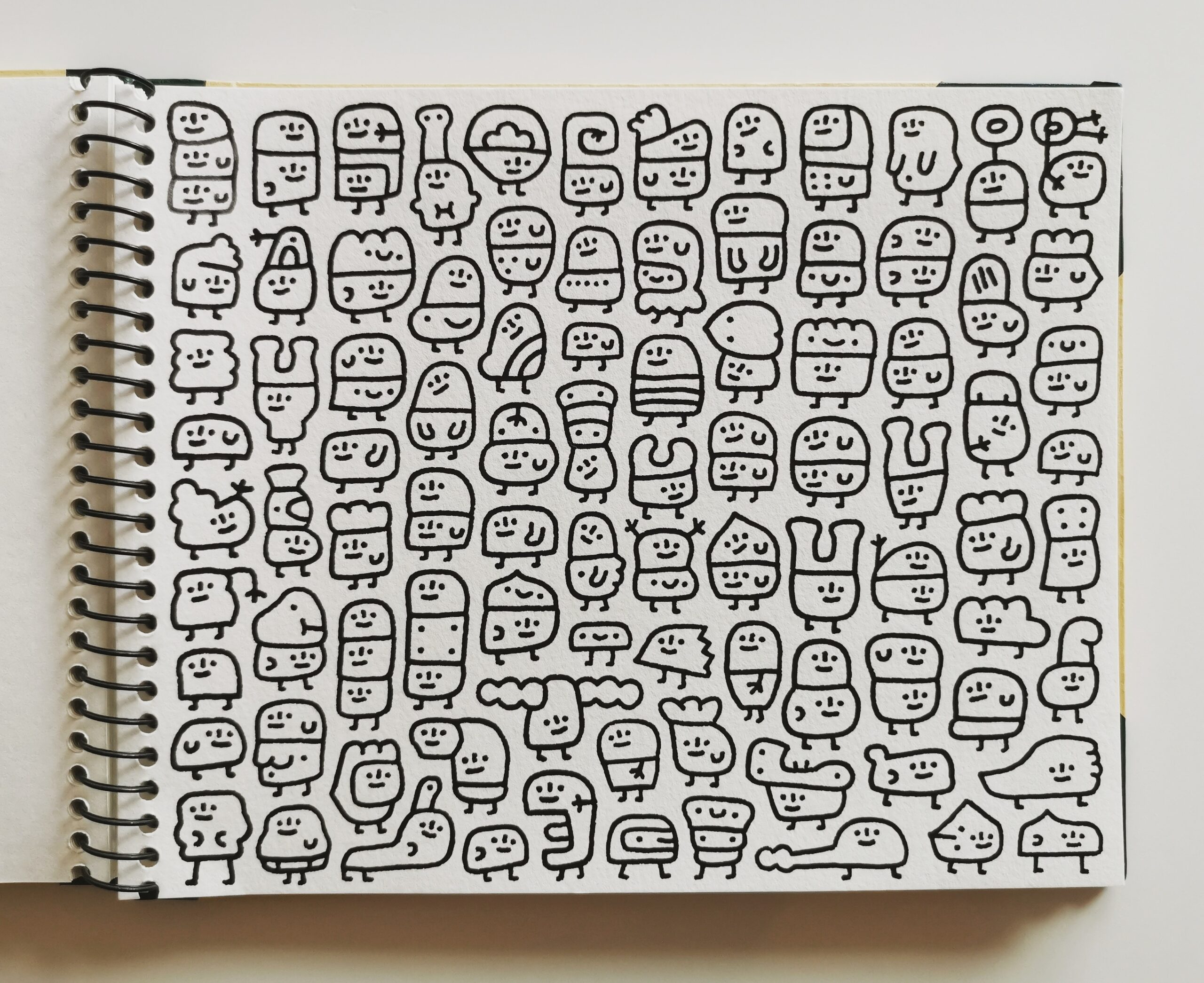 My tiny characters look like letters – sketchbook (2020)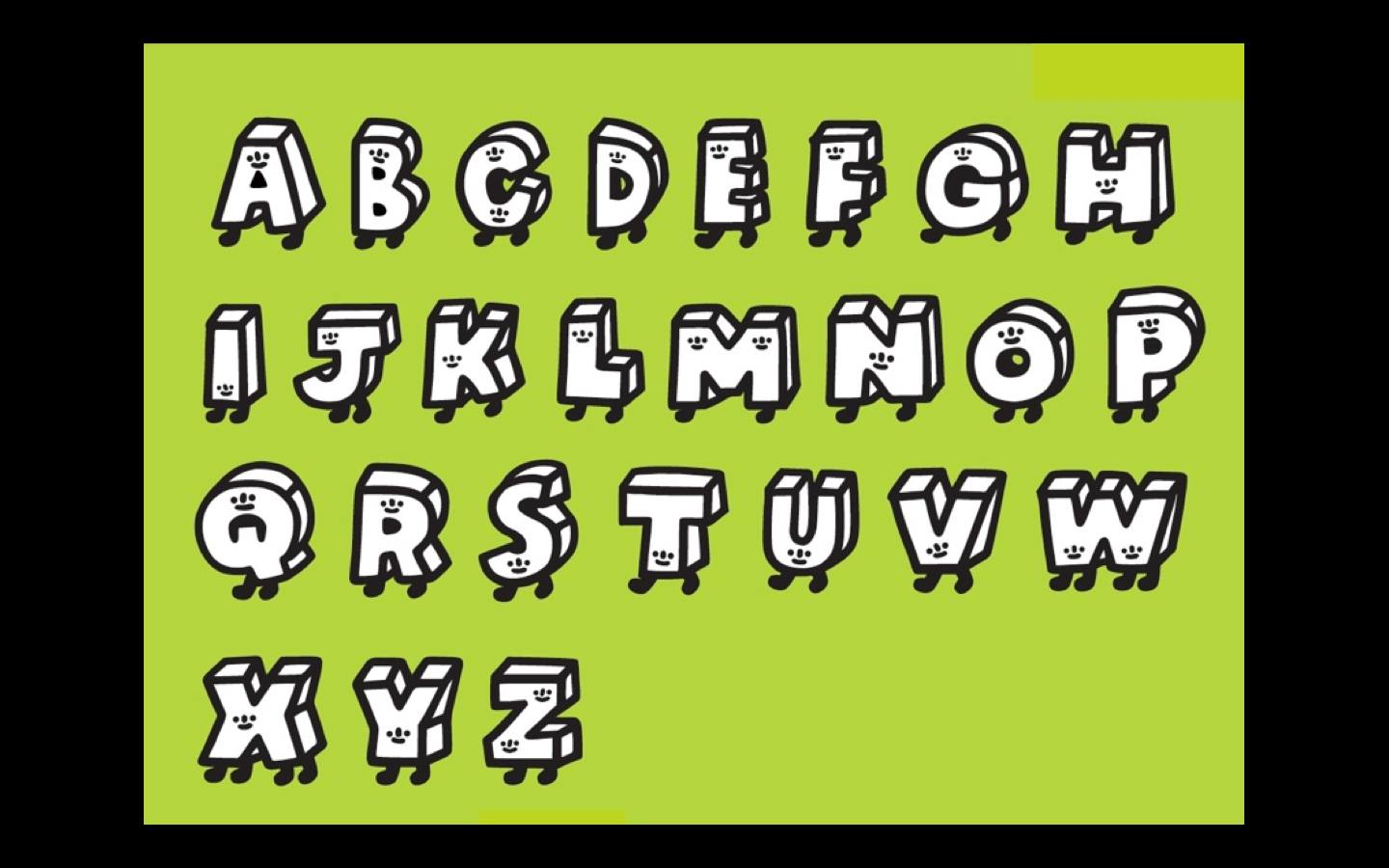 Aki alphabet letters (2015)
Do you consider any of your characters to be self-portraits? 
I'm not sure self-portrait is the right term, but I believe my characters are all parts of myself. Every character has a smile, an "Aki Smile", which connects them to me. It's so important to smile, smiling allows us to be more positive and happy and to bring happiness and positivity to others. 
I am not the priority in my work, the artwork itself is more important. The former is limited but the latter is unlimited. My artwork will still exist in the world long after I'm gone, but to ensure that happens I am keen to work on a huge project, a dream collaboration with the world of architecture to create the biggest artwork of my life. In a sense, that would be a portrait of my smile.
You describe yourself as a 'drawaholic', what do you mean by that? 
What is the 'drawaholic'? Well, I love to draw my small people again and again. It's like the copy-and-paste function in word processors. I take my time.  No two figures are exactly the same. I am happy only when I fill the big white canvas.  I am proud to call myself a drawaholic.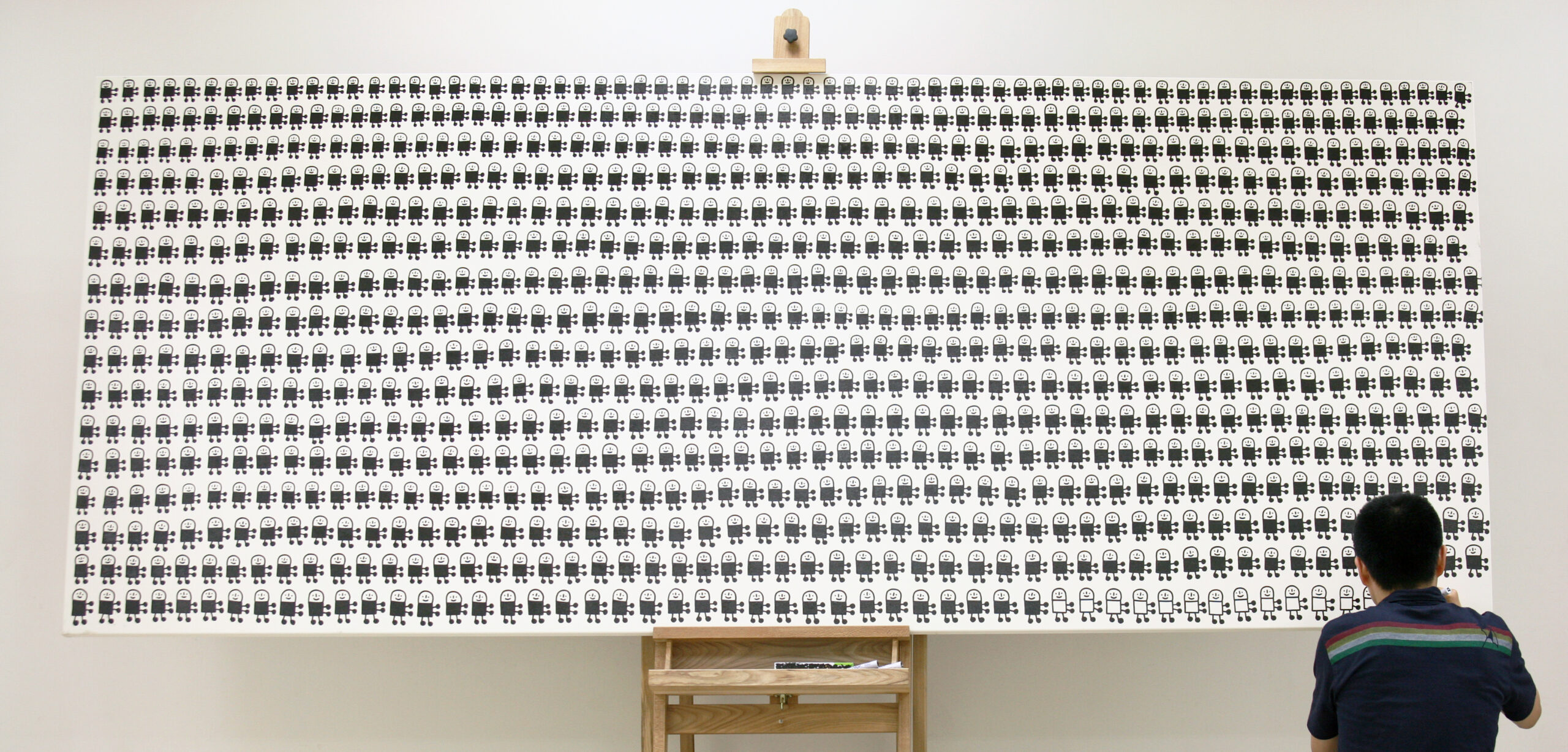 I am a drawholic (2007)
You have kids, right? Do they enjoy your work? Do they ever help you with your art? 
I have two kids; one is a teenage boy and other is a small daughter. My son is not interested in my artwork at this moment unfortunately, because he's a teenager. He prefers playing games with his friends. Maybe he'll understand more about me and my artwork when he grows up a bit more. Despite this, I am still very inspired by him and our family life and have been since he was born. It's such an ordinary life but you can always find new small things with a baby, it gives you a different perspective. My daughter is still small.  She like to draw with me.  Whenever she finds a character of mine she says, "It is a Papa". That makes me smile.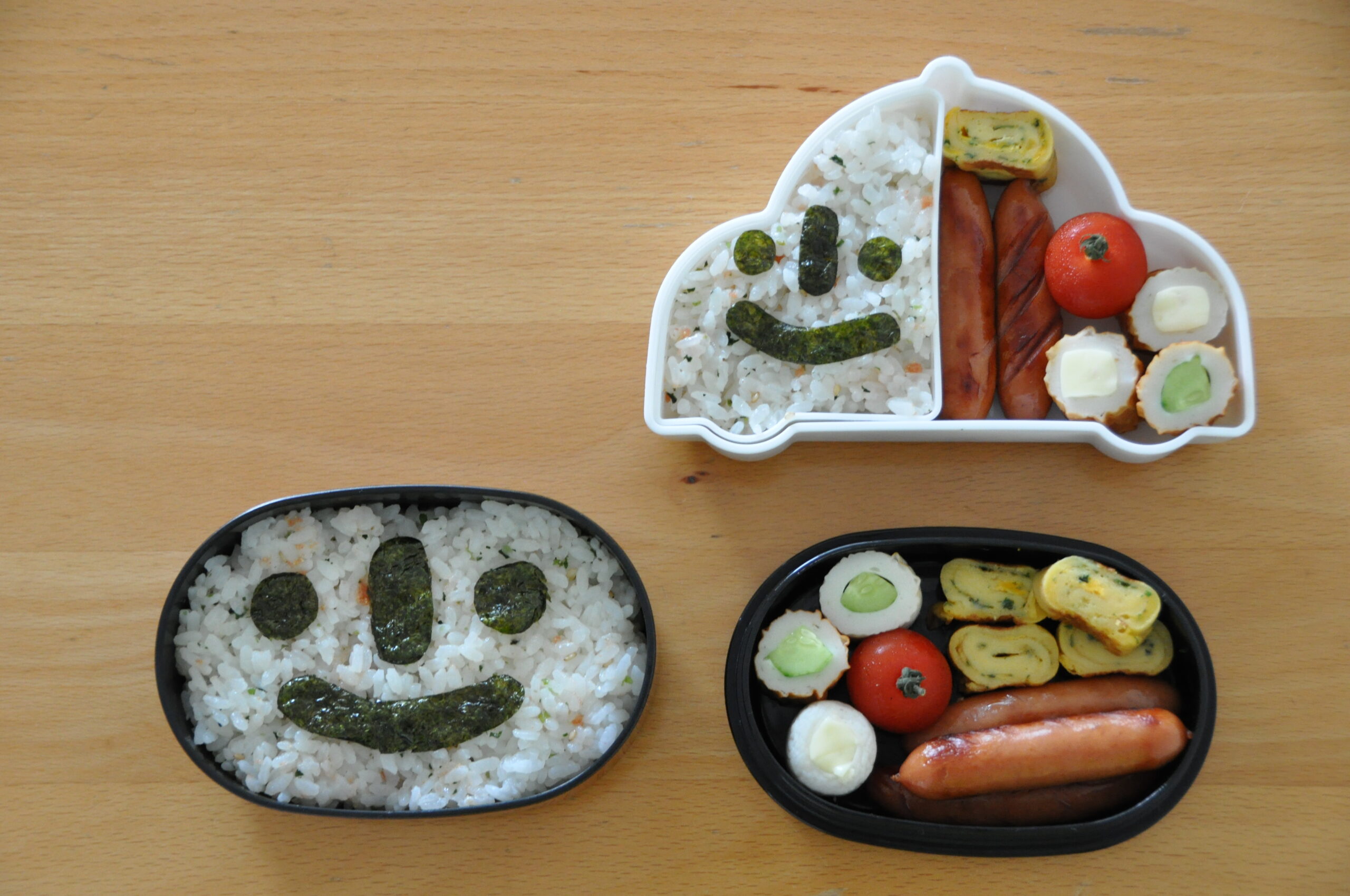 Lunchbox  (2011)
Who is the little black cat on your Instagram? It's adorable. 
My little black cat is called "Home Cat". It's my design and I asked my mother to sew the plush dolls. The inspiration is from the cat who lives at the small bookstore in the town Tamsui (which means Fresh Water) in the north of Taiwan, where I lived for a month. During my last visit in Taiwan, I made a mural drawing on the beautiful balcony of this small bookstore. The town is famous for its beautiful river and mountain. I love Tamsui very much.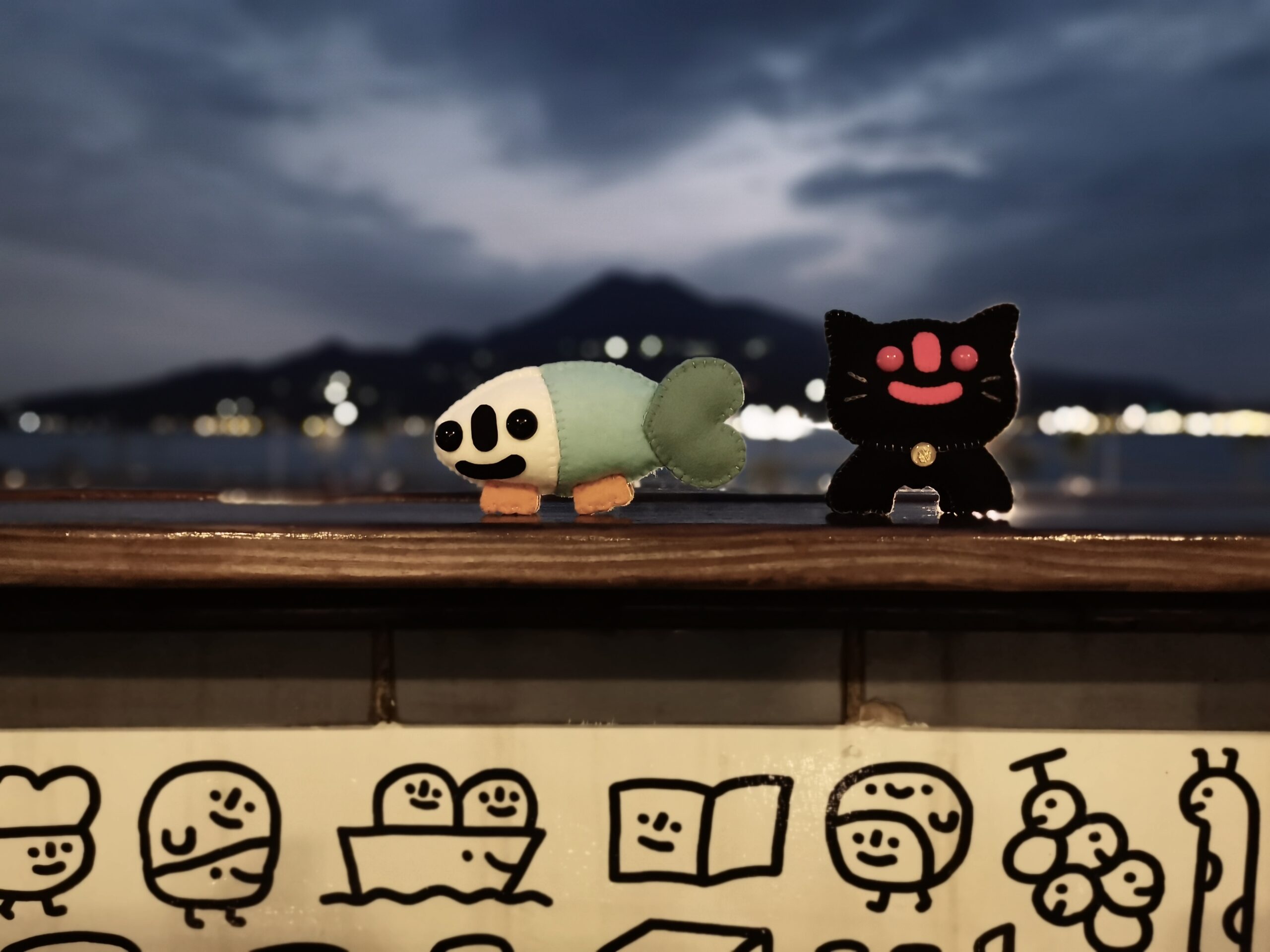 Coming back to Tamsui the north town in Taiwan (2020)
I have one of your Lawhill vinyl toys on my desk, and it always makes me smile. Do you intend on making any more? 
Yes, I really would like to create more! Lawhill needs friends.  It's like a mountain series from Europe and Japan. I've also made ones based on the Alps like the Matterhorn (Swiss) and Triglav (Slovenia) and the Japanese Mt Fuji!!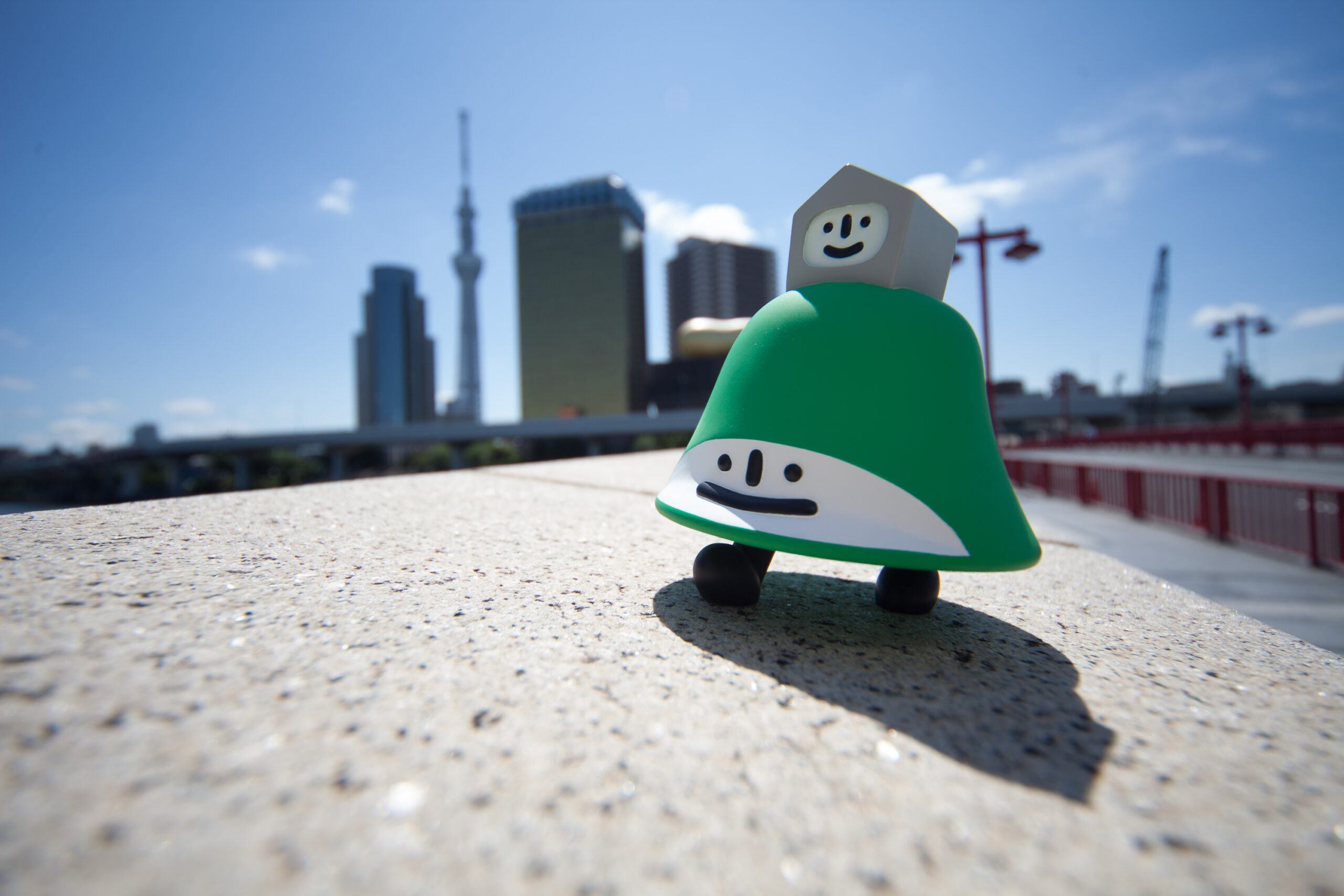 Lawhill vinyl figure in Tokyo (2012) photo by issekinicho.fr
Can we ever persuade you to come back to Dundee? 
I can't believe 10 years have already passed! When I stayed in Dundee in 2010, the architectural design by Mr Kengo Kuma has just selected for V&A Dundee.  I am very honoured that I am also from the same country, Japan. My next mission (my dream) is to hold an exhibition of my character designs at the V&A. Hopefully my dream could come true soon!
What do you think of our theme this year; Share, Share Alike? 
 Who imagined we would have such a difficult time this year? We just have to be positive. If we make an effort together, the virus will go away, and we can get back to a safe life in all the world. Let's "share" something, happiness, and look forward to a time when our lives will be back the way they were.  So, I'd like to share my happiness with all the people in the world. An Aki Smile, shared for everyone.
I just keep on drawing … and I was confident to share my happiness under the grey economy  … 
Aki's characters, including "Home Cat" and original merchandise like temporary tattoos and vinyl figurines, can be found on his website.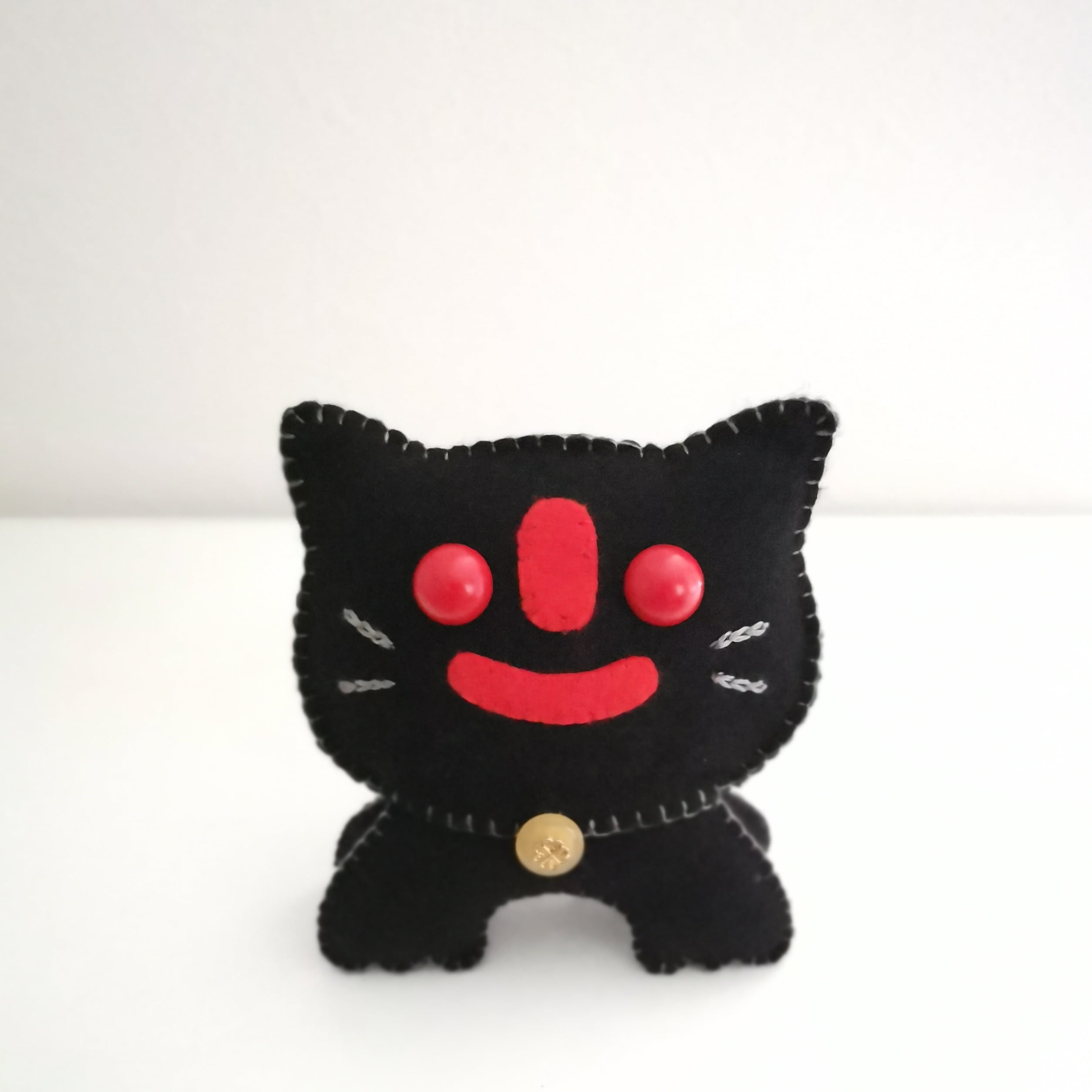 "Home Cat" handmade plush doll (2020)