We spoke to NeoN co-curator Joseph DeLappe, a former exhibiting artist at the festival, who is in the process of planning this year's symposium.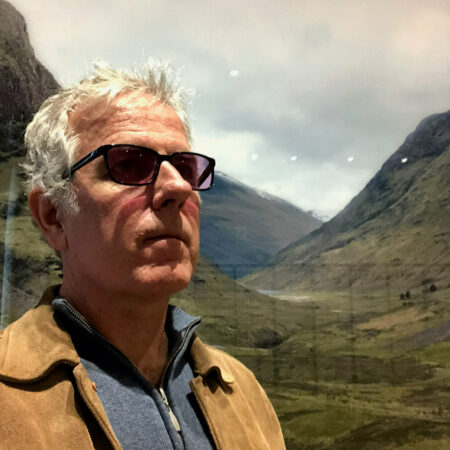 Much of your work engages with the political situation in your native USA, has spending two years in Scotland changed your perspective at all?

This was indeed a question I asked myself upon relocating to Scotland from the states. I was curious how this would effect my creative practice. Curiously I've found that there is so much focus on the politics of the United States in the media in UK that to a certain extent I do not feel as far removed as I might have expected.
That said, I do feel a bit of distance and perspective on the politics back home – they look even more absurd and frightening from here! I do find myself continuing to be drawn to the political situation in the US, as is evident in my new work 'Elegy: GTA USA Gun Homicides', a project that creatively seeks to engage the issue of gun violence in the USA through the use of a computer game for data visualization. There is something to be said about all politics being global however – I find myself drawn towards more international issues perhaps, such as the disaster that is our climate crisis. Being here now for two years I feel as though I am getting settled and beginning to take on new initiatives in my work and towards engaging the community of Dundee and beyond.

What is online gaming intervention and how do you use it in your work?
An online gaming intervention is a way of interacting with internet based play in a subversive manner. I am basically conscientiously trolling a given game space by acting/performing in a manner that is not consistent with the rules or norms the online gaming context. The first experiment like this was an intervention into an online sci-fi shooter 'Howl: Star Trek Elite Force Voyager Online', created in 2001. I entered the game space with my avatar 'Allen Ginsberg', the famous American beat poet, proceeding to use the in-game text messaging system to recite in its entirety, Ginsberg's seminal poem 'Howl'. This was a creative way to engage a game space online, a theatrical commons online if you will. Since that work I've experimented with this approach, including a group/ensemble effort to reenact an entire episode of 'Friends' in a 'Quake III Arena' game space followed by a more overtly political work 'dead-in-iraq' to protest the Iraq war in the 'America's Army' shooter game (a government funded online recruiting game developed by the US Army).
Protest can be seen in your works like 'dead-in-iraq' – where you memorialised the servicemen and women killed in that conflict – has it always been an element of your work or is it something that grew out of a specific encounter or situation?
I've always been a bit of a political junky. My work has engaged cultural criticism and politics over the years – but it would be the attacks of 9/11 in NYC and my country's reaction to it that fully politicized my work. It was actually the open call and results of the process to create a memorial at the 9/11 site that truly pushed my work firmly into this territory. There were over 5,000 entries world wide to the call for proposals for a memorial to the terror attacks in NYC. A website was published in 2004 featuring all entries to the open call for proposals: http://www.wtcsitememorial.org/. I remember at the time thinking that there would never be such a memorial process for the many thousands of Iraqi civilians who had by then already been killed in our ill-advised invasion of Iraq, an invasion that was precipitated by misinformation and lies seeking to connect Saddam Hussein to the 9/11 attacks.  The idea for 'dead-in-iraq' and for Iraqimemorial came out of this experience.
What is your immediate response to this year's NEoN's theme: React?
I am quite excited by the theme of this year's NEoN. It is quite timely and I think necessary that we examine the state of digital art and politics, social change, activism, etc. My response to this theme, in helping to curate and organize the festival and symposium will be to gather together a diversity of critical and creative projects, people, organizations and the local community to explore and engage in works, ideas and processes of creative resistance. Ultimately I hope we can affect change, create new opportunities for collaboration and develop some level of understanding of what is happening in regard to digital artists engaging directly with politics and activism while at the same time perhaps creating some direction for engaging our uncertain futures.  
What are your plans for the three day symposium? Have you got any speakers, topics, or themes confirmed yet?
I'm co-organizing the symposium, Re@ct: Social Change Art Technology, with Dr. Laura Leuzzi, a research fellow at DJCAD, University of Dundee. We hope to create a rather non-conventional symposium that will involve a diversity of local, regional, national and international participants. Thematically we broadly intend to examine the past, present and future of digital art and activism. Our plans are still under development, we want this to be a responsive, exciting and engaging event. The plans now are for a three day event, each morning meeting at one location in Dundee, breaking for an extended lunch locally, then meeting in a new location and so on. We are hoping to engage people through a process of moving about the city, from very formal to informal locations. A fourth day will feature a variety of workshops and opportunities for further engaging issues raised during the symposium. This will not be your typical academic symposium – we hope to reflect the content of the festival through the very structure of the symposium – to engage, to move into and around our locality, to mix things up in a fundamental way. We are in the process of securing funding for invited participants so I am not in the position to identify specific persons just yet (soon though!). We do plan to have an open call for submissions and will hopefully have a very diverse and interesting coterie of people descending upon the city for the week of the festival. 
Could you explain, as has been said elsewhere, what is meant by 'focusing on process' rather than taking any particular political position?
This is part of what we hope to engage through the theme for NEoN and the symposium. To explore the processes being engaged by media artists and activists utilising new technologies in their efforts to effect change in our social and political contexts. I would as well suggest that equally important will be to consider the efficacy of such processes, do they work? The political positions will be varied, these will be of course represented in the works we choose to show and engaged by the participants, speakers and the public as they are involved in the various exhibitions, screenings, workshops, symposium and other public events.
To learn more about Joseph's work visit his website at: www.delappe.net
By Ana Hine
Image: "dead…whats your point?" dead-in-iraq screenshot 2006-2011