As the frozen faces passed across the screen I felt a profound sense of unease. Though the pulsating heart featured heavily in Caitlin Dick's work was the cause of the warning signs on the walls, there was something about the faces – some clenching jaws in pain, others silently howling – that really disturbed me. Of course being disturbed is part of the intention of 'Flesh and Finitude', the current show at Generator Projects as part of NEoN digital arts festival this year. Curated by Zsofia Jakob, the show confronts the viewer with echoes of life; fungi, yeast… and yet it is so coldly technological it becomes a supremely isolating experience to view it. A question kept running through my mind: are the pieces in pain?
What prompts this question is Caitlin Dick's immediately impressive installation piece Give Into That Easy Living, a sculptural work made of mobility aids, rubber, expanding foam, PVC, and various monitors. At one point a pair of yellow mannequin arms start to shake on the floor, as images pass across the screen they're connected to. It looks like someone having a fit and there's an impression of information overload.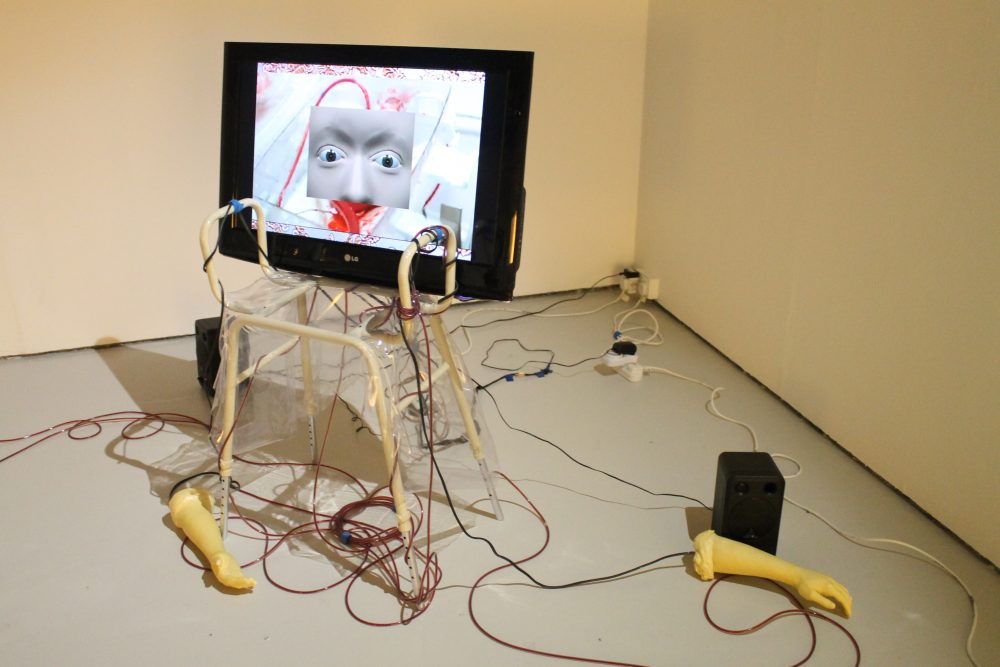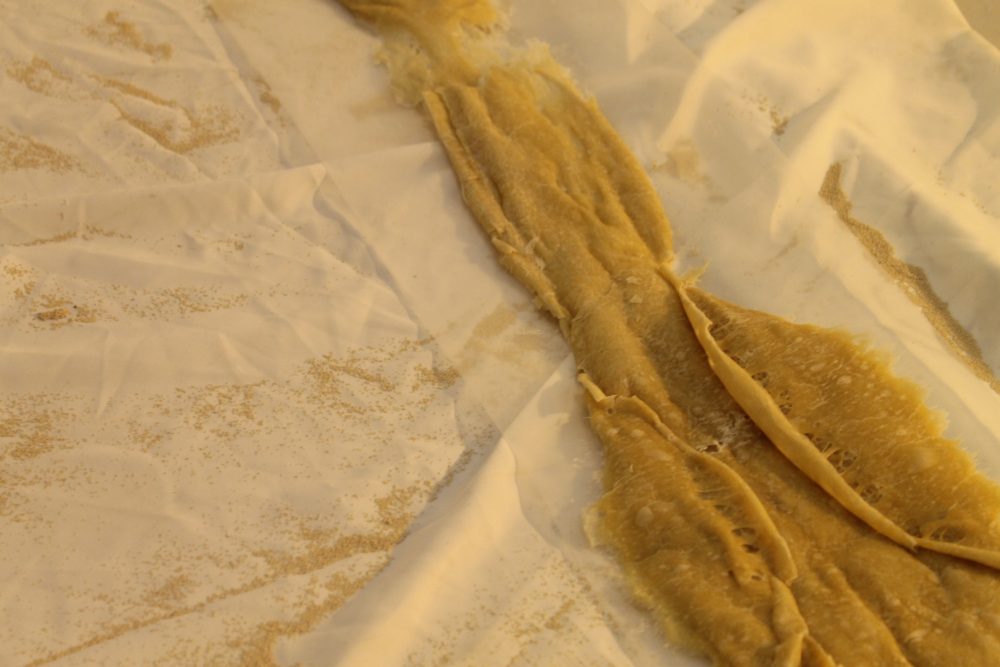 This cyborg connection is very intentional, with Caitlin writing in the programme notes; "Technology has become an extension of ourselves, no longer a separate entity; we feel lost or uneasy when we are without it… [my work] displays our propagating connectivity, driven by the twitching, fidgeting hum of our digital addiction."
The use of the word "hum" is telling, since sound is also a key part of the effectiveness of this exhibition. Both Caitlin Dick and Caitlyn Main use instrumental music and audio effects to produce an eerie, dystopian-future soundscape. Caitlyn Main's work Gurgle, Palpitate, Gallop, Trot does indeed gurgle its way out into the rooms – with threatening strings and dripping liquid sounds to ensure that the viewer is always mildly on edge. This effect works well with the visual components of her work, which feature unbaked bread dough, human hair, wax, and headphones,  presented in a fairly deconstructed manner. I was reminded of the robot junkyards in sci-fi movies, where there's always the possibility of some poor soul surviving amidst the rubbish – crippled but conscious.
Particular details I enjoyed were the blood red liquid connecting the various parts of Caitlin Dick's installation – implying again a deconstructed but still somehow alive creature that was/is half-human and half-machine. While the distance between the various organs made the work appear somewhat vulnerable it was, again, mildly threatening with its beating heart and expressive eyes appearing routinely on its various screens. One moment that was especially unnerving was when the main screen displayed an iPhone superimposed over a face, with the phone calling a number listed as "SOS".
This is one of the best shows I've seen at Generator and I'm looking forward to going again as part of the Festival Walking Tour on Thursday 8 November, by which time the fungi in Callum Johnstone's work should be well and truly fleshy. For more information about 'Flesh and Finitude' visit generatorprojects.co.uk/project/fleshandfinitude.  
by Ana Hine
Image Credit: Ana Hine