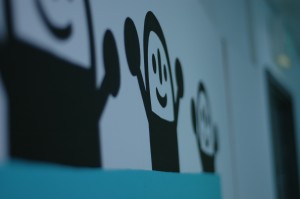 Japanese artist Akinori Oishi (Aki) will have his first UK solo show in the Hannah Maclure Centre (HMC) as part of NEoN. Aki is being commissioned to produce new work that will transform the HMC into one of his landscaped playgrounds.
The curator of the HMC first met Aki in New York at the 2008 Pictoplasma Character Conference.
It was the project Very Fun Park in Taiwan that sparked the obsession with his work – it was only a matter of time before the take over would begin in Dundee.
Aki has been asked to respond to Dundee city and consider re-landscaping one of its streets. It is hoped that Aki's distinctive style will extend in the streets of the city creating Dundee's very own Very Fun Park. Discussions continue …