Review: NEoN Galleries Tour and NEoN at Night
The tour began at CentreSpace in the basement of Dundee Contemporary Arts (DCA), with moving image works by Paul Dolan and Paul Walde. Both films explored the idea of landscape as something created and maintained, as well as uncontrollable and sublime. Artist Kelly Richardson, whose 'The Weather Makers' exhibition upstairs was the next stop, curated the pieces. Richardson's work features stunning imagined forests and rocky vistas filled with crashed and broken drones and exploration rovers. It was strangely moving to watch CGI robots twitching under a cold, indifference sun in 'Mariner 9'– sort of like Wall-E mixed with Mad Max or Dune. Apparently the piece was based off technical data from NASA's missions to Mars.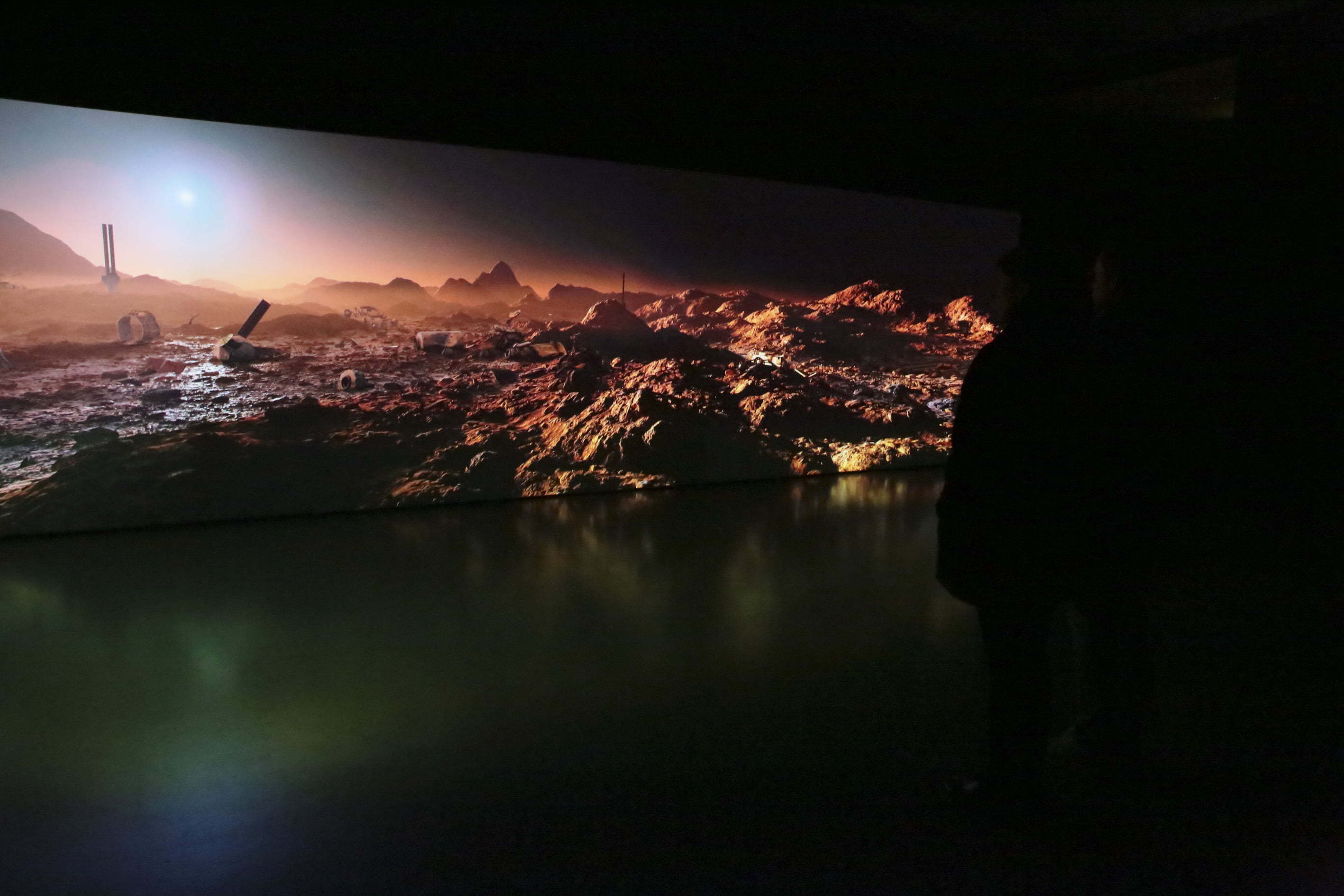 The DCA organises an event called 'Echo' to tie-in with each exhibition in the main gallery, allowing members of the public and local artists to respond to what they see. This time there was poetry from Lindsay MacGregor and Gavin Cameron, who commented: "at the very least they can rust in peace", a short film, and a musical composition. Unfortunately, the main response from Tom deMajo had to be cancelled at short notice as his train was delayed. He is expected to present his piece in the final week of the exhibition, between 20-26 November.
After the DCA the walking tour made its way to Generator Projects on Mid Wynd Industrial Estate to witness performances by Diago da Cruz and Max Dovey, who both had pieces in the exhibition there; 'Geltung [Validity]: Perception of a Natural Right'. Both artists were exploring monetary systems and alternative currencies. Dovey's work was an attempt to monetise human breath, using volunteers from the audience as respiration generators he performed a monologue that oscillated between real digital economic history and an imagined future where human breath and saliva replaces traditional currencies. A point of humour was that throughout the time of the exhibition the real accumulated net worth of the artwork was only one pence, which was then passed around the audience reverently.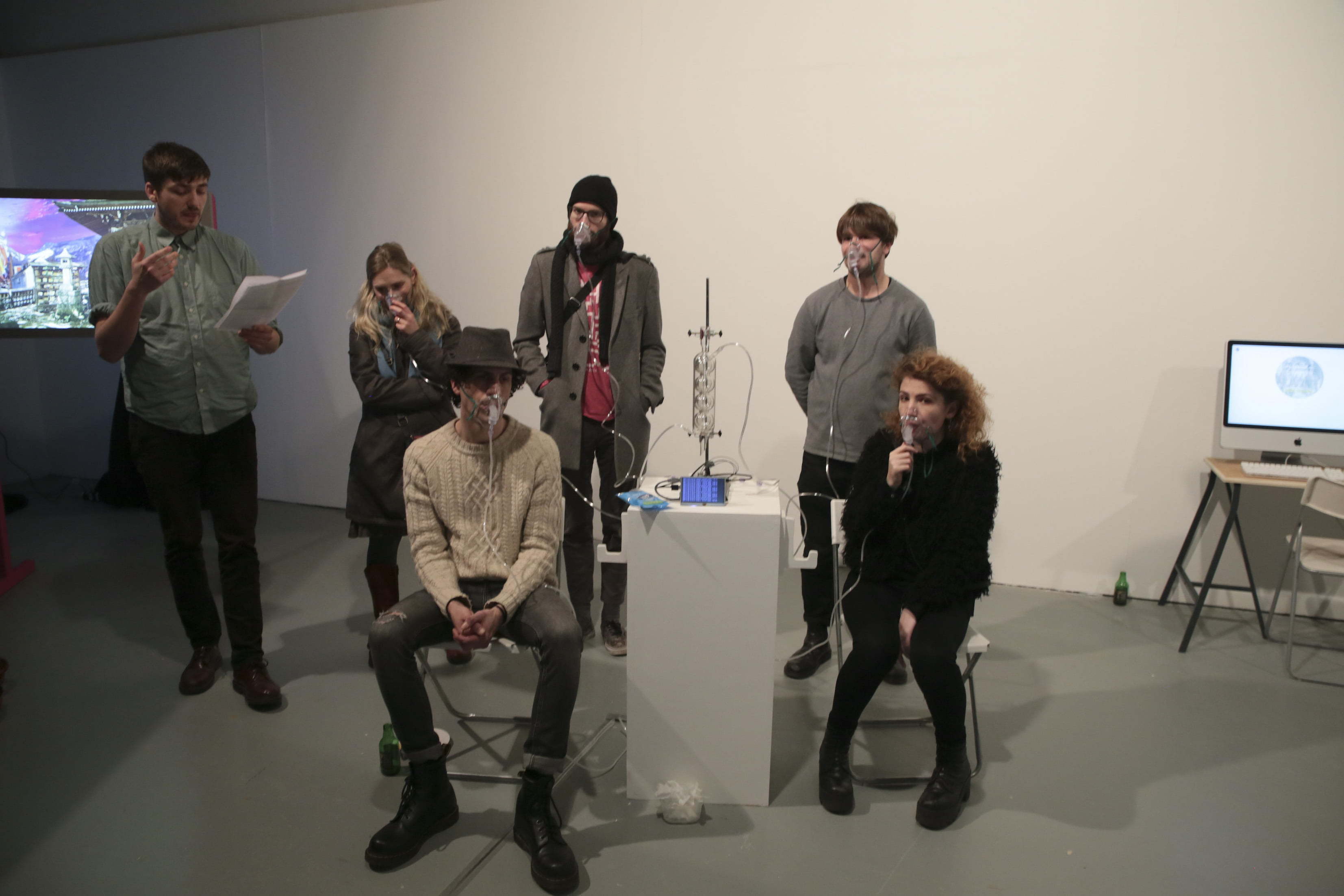 By this time it was getting particularly cold, making the walk to West Ward Works distinctly unappealing. Despite this, most of the tour participants did manage to make their way over to the third and final stop. A former printworks, the empty building had been transformed into a temporary art gallery to showcase this year's themed pieces as part of 'Media Archaeology: Excavations'. I have already spoken to many of the featured artists elsewhere on this site, but nothing compares to seeing artwork in person. A particular highlight was Olia Lialina's piece, 'Give Me Time/This Page Is No More', which showed old pages from the website GeoCities on a loop. One the left were pages that had been left in a permentent state of coming-into-being with text saying things like "Pack 15's homepage will be right here. Just you wait," alongside pages that had been shutdown, full of apologies and explanations. The one that resonated with me the most simply said, "Well, Niki and Duo are no longer together. We broke up December 17, 1999… there's nothing else here. Go home." Like a story prompt, the pages conjured up an idea of what the webpages might have looked like when they were maintained. Maybe Niki and Duo had been sharing photographs, memories, or a shared enthusiasm for a band or TV show. It's possible that the GeoCities Torrent which Lialina mined for the screenshots shown in this piece hold the answers.
Elsewhere in the venue were 3D printed sculptures of monuments destroyed by ISIS, glowing green uranium glassware, VR, and site specific sound interventions.
A few days later I returned to West Ward Works for the festival's late night party. The set list included performances by Plastique Fantastique, Verity Birt & Musician U, and feminist witch sisters Fallope & The Tubes amongst others. While all the acts were visually captivating, the strangest was definitely Plastique Fantastique – who attempted to summon the 'Bit Coin Fairy' with mixed results. Watching a grown man have glitter thrown in his face while someone repeatedly intones the words "bit coin fairy" for a good ten to fifteen minutes was an experience I'm not sure I'd care to repeat, but did have a certain charm.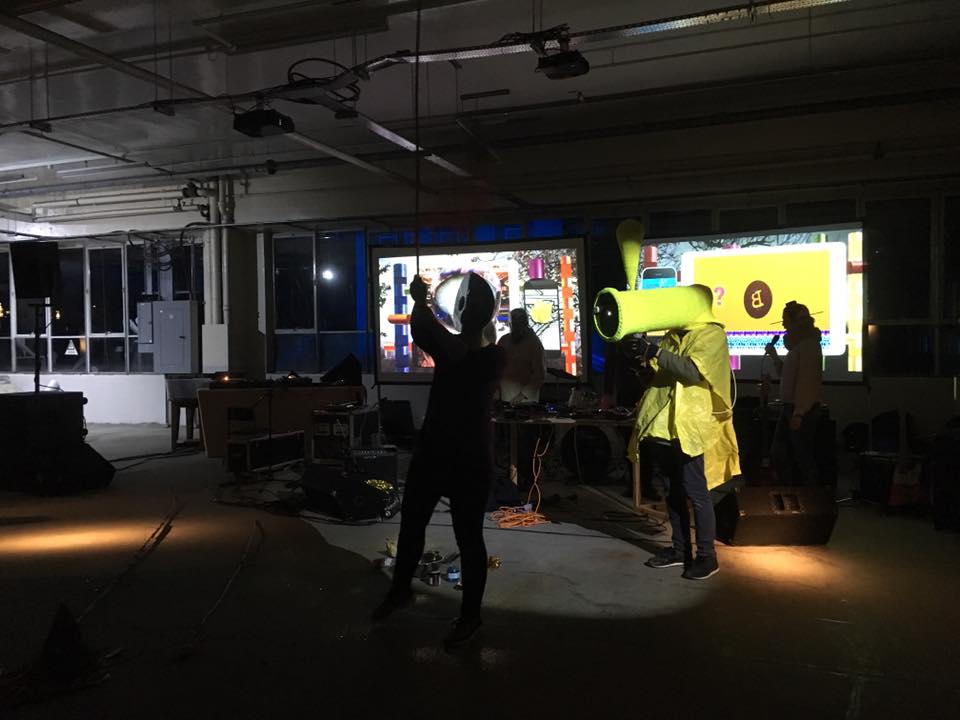 A surprise joy was karaoke room set up by veteran zinesters Yuck N Yum. Each song had its own custom video-art piece, including a hilarious take on Paul Simon's 'You Can Call Me Al' featuring cartoon instruments added in post-production. Established artists such as Rachel McLean as well as former DJCAN alumni like Morgan Cahn had submitted work, and although the microphones were turned down quite low to spare us listening to each other's singing it was an enjoyable way to spend the evening. Hopefully Yuck N Yum karaoke will be a regular feature of next year's festival.
Overall, each venue of the walking tour and each act of the late night party helped to give the impression of a festival going from strength to strength. I look forward to trudging through the cold next year if it means seeing such high-quality digital art.
By Ana Hine