NEoN 12 has come to a close after another successful year, we had a great week putting on a series of wide ranging, fun and informative events from 0800-GRL-DRM to V&A at Dundee Digital Mash. As always, we couldn't have done it with out our partners and this is a post to thank them all and champion the good things they did!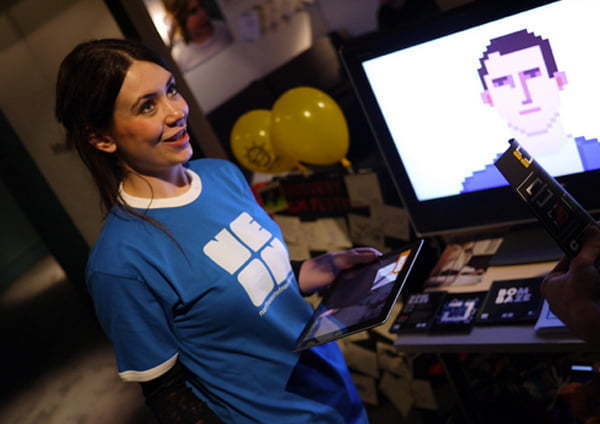 This year we started the festival on a Sunday with a new event 'Drop in and Play' This was aimed at showcasing the best independent interactive creations from selected digital tech companies. We hand picked our favourites from a hefty selection, on show this year were Denki with their new web based game 'Save the Day', Dundee startup Quartic Llama with iOS game Moeba and Lucky Frame showcased Bad Hotel and up and coming game Wave Trip.  Also on hand was artist Pippin Barr who came in from Malta to show off some of his unique flash based games ahead of his talk at PKN Vol 04. The day was rounded off with a special showing of Indie Game the Movie in the DCA Cinema.
We'd like to thank the DCA for being our venue host and making 'Indie Game the Movie' a feature film in their Digital Film Festival and the launch film for NEoN 12.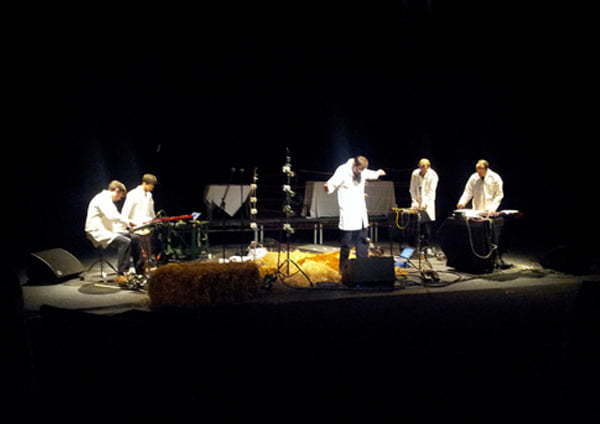 We'd like to thank the Dundee Rep and credit Matthew Herbert and his supporting musicians who created 'One Pig', a spectacular performance that challenged many people's perception of consumerism and the use of animals within art practice. If you were lucky enough to spot our mischievous piglets running about town promoting 'One pig' we would like to thank you for allowing them to pose in your shops or for your participation. Ra Ra's, T Ann Cake, Costas, DCA, street buskers, Fleet Collective, Drouthy's and The Rep Theatre became special features in our Pigtograph album.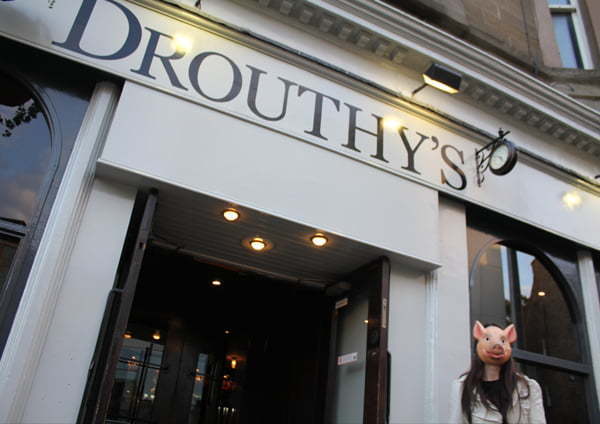 We had an amazing finish to our opening night with a VJ performance, by artist Jaygo Bloom, held in the basement of one of Dundee's highly regarded bars called Drouthy's.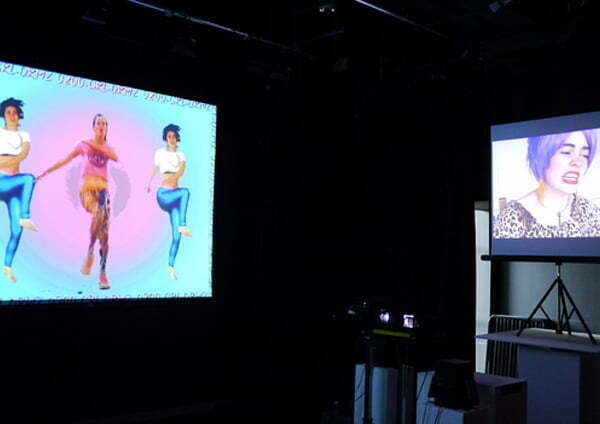 Thanks to all of those who came along to see the surreal and visionary 0800-GRL-DRMZ exhibition and supported their aspiration to become celebrity artist idols. We were super chuffed with Catrin Jeans and Sarah Messenger who managed to take NEoN's theme of 'Movement between the physical and virtual worlds' into a whole other unimaginable perspective different from any other artist presenting at NEoN 2012. Instead of directly thinking of how to address physical and virtual worlds, they challenged what is real and not real between these two environments.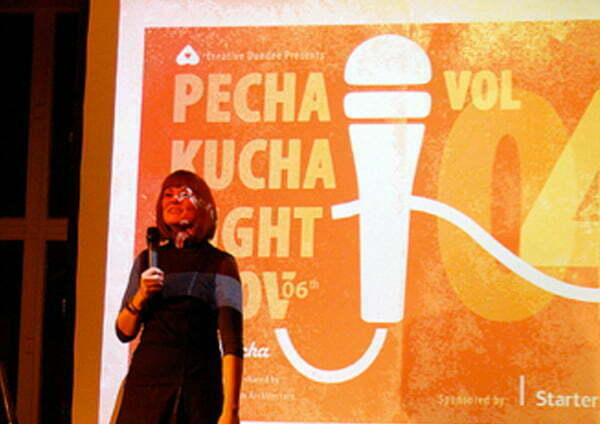 We like to give a huge thank you to our Pecha Kucha collaborative partner Creative Dundee, who co-ordinated and resourced some great speakers.  PKN Vol 4 was sponsored by CEO's Starter for 6 programme, so on behalf of Creative Dundee we would like to give them a big thanks!
We are delighted to hear from a few of our festival visitors that Pecha Kucha Vol 4 has been the best yet. We believe this had to be the result of a grand collection of speakers. All talks were full of wonderful insights into the lives in Dundee. The PKN Vol 4 presenters included: Nikki McWilliams, Phil Wilson, Tin Roof, Suzy Glass, Peter William Holden, Anna Day, Pippin Barr, Clive Gillman, Mhairi Towler, Jessie McGoff, Jaygo Bloom, Erin Michno and Chris Martin.
We know that our audience left with a high sense of Dundee community pride.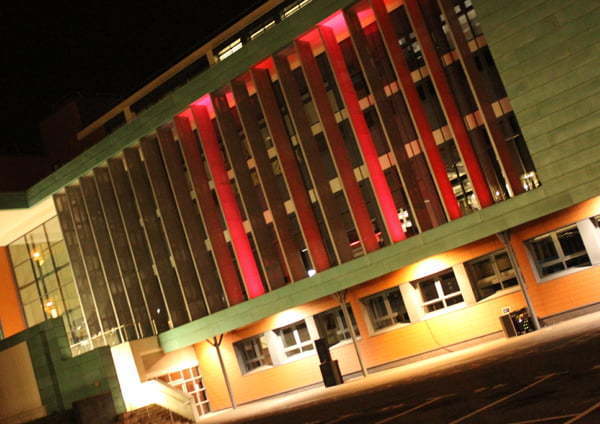 We'd like to thank our collaborative partner the Hannah Maclure exhibition space at Abertay University who assisted the creators of 100,000 Lux, a mesmerizing light show on the exterior of one of Abertay's University buildings. We were all entertained by the this outcome produced by Programmers Erin Michno and Ian Reynolds, Dundee University lecturers David MacTaggart and Antonia Wilmot-Smith along with sound designer Raz Ullah. This event marked the first collaboration between NEoN and the Dundee Science festival, which funs at the same time as NEoN each year.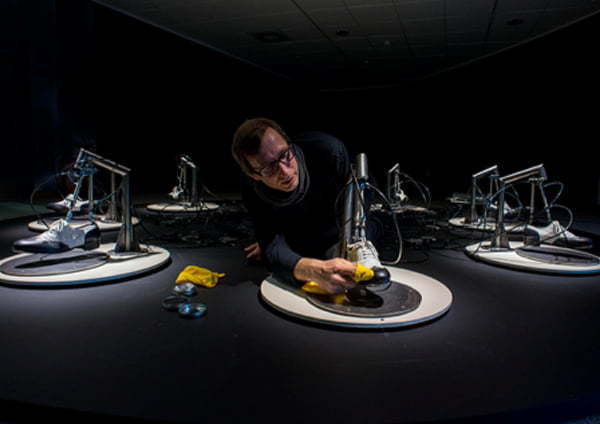 The Hannah Maclure Center had also presented one of their most profound exhibitions called 'Finding Kinesthesia' by Peter William Holden, who has presented his work all over the world. We are incredibly proud to have assisted Holden's first UK exhibition, he was great to work with and we hope we can bring him back in future. We would like to thank all the participants who came along to Peters introduction to physical computing workshop and for all the effort Peter had put into making this an enjoyable activity. Thanks to Scot Industrial Air for supplying the compressor that made this possible!
All the members of NEoN are extremely excited about the V&A future focused ideas developed at the #VAmash workshop. This was a perfect event to introduce people to the newly opened 'Caffe Borsa' who supplied delicious complimentary drinks and food, which we are incredibly grateful for. We would also like to give a special thanks to Tara Wainwright, V&A co-ordinator, Chris Van der Kuyl from Brightsolid and Masters student Karen Lyttle of Hobby House for facilitating and structuring this fun workshop.
This year we had Matthew Collings returning with 'Heartbeater' a developed version of 'Melodee'. This was greatly received by the Nilupul Foundation. We are keen to have Collings interest and enthusiasm keeping the NEoN digital arts festival going each year.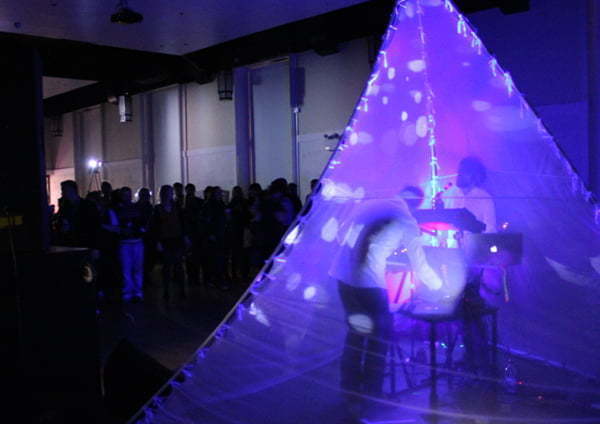 Our closing night was a fitting end to a great week with DJ's Baba Gogo, Steve Millan and his Spectrobooth and from Art of the Memory Palace for their spectacular performance. Credit also to Richard Holford-Lovell for closing the night with a fine retro DJ set!
This year we have worked extremely hard on our 'User friendly' website (Scotland on Sunday). We have some of the best photography and filming to flaunt thanks to Dylan Drummond photographer and member of Fleet collective, Alan Richardson Dundee Courier photographer, Ed Broughton who produced the Pecha Kucha videos and Andy Sim who produced the 100,000 Lux video.
The biggest of all thanks goes to the three companies who sponsored NEoN to allow us to pay for accommodation and travel of special guests, Denki, Waracle and Sooper Double D – You are all stars!
This amazing festival couldn't have happened without the few crucial people who work behind the scenes who deserve some acknowledgement. Thank you to Lyall Bruce, Donna Holford-Lovell, Scott Downie , Clare Brennan, Robyn Mayer, Raz Ullah, Eleanor Whitby, Morbhen Rattray, Andrew Gavine, Katie Young, Alex Tobin and Steph Fulke.