Dates: 26th–28th May 2016
Times: 12pm–4pm each day
Where: Wellgate Shopping Centre
Part of  Ignite Dundee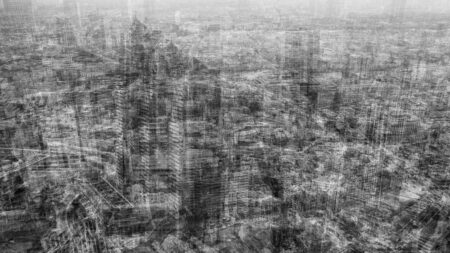 Michael Najjar, The Invisible City
Thursday 26th 2016 | 12pm Talks | 1pm – 4pm drop in screening programme
Jelena Stankovick | MAPPING THE CITY THAT I REMEMBER AND THE CITY THAT I IMAGINE
The city that I remember and the city that I imagine are usually not the ones that already exist on conventional maps. This creates a need to make my own memory maps. Searching for a model for recording these cities involves a consideration of the collective aspects of memory. This model will be applied to Banja Luka.
Jelena Stankovic studied architecture at the University of Banja Luka, Bosnia and Herzegovina and is currently a doctoral student in Architecture at the University of Dundee, where she is completing her PhD thesis on the role of the city in the memory of its inhabitants.
Ian McKay | Save Barrack Street
The Structured House Group (SHG) has lodged plans with Dundee City Council to redevelop the former Robertson's House Furnishers store on Barrack Street, which could involve part or all of the building being knocked down. The store, which stood proudly in the city centre for 130 years, would be replaced with student accommodation, a restaurant and a cafe, if the bid was successful. Hear how Ian McKay along with Phil Doig have formed the "Save 56 Barrack Street" group in the belief that too many of Dundee's fine old buildings have gone.
Hiba Alkhalaf  | The future of the Past
Our Historic cities consist of multiple layers of tangible and intangible values, while keep changing to adapt to the current needs. Sense of place is what makes one city distinctive from the other in this globalised world and express our relationships with the built environment. Defining what the Sense of Place might be is crucial to decide what to pass to the future generations and what to allow to change.
Hiba is a PhD candidate in architecture at the University of Edinburgh with a main passion and occupation in architecture and particularly architectural and urban conservation with multicultural practice experience in Middle-East and UK.
Drew Hemment | FutureEverything, Smart Cities
Drew is an artist, curator and academic researcher. He is Founder and Creative Director of FutureEverything, and a Dundee Fellow, Reader at Duncan of Jordanstone College of Art and Design, University of Dundee. So far the debate on the Smart City has focused around the technology being developed and created by large corporations, and ignores the most important dimension of cities, the people who live, work and create within them. Cities around the world are hitting the same impasse. No one has so far found a way to intelligently bring together the big technology platforms offered by the global corporations, with local technology projects and the interests of citizens. A growing number of voices now argue that the very concept of the Smart City is flawed, that it will fail to deliver civic and economic benefits, and the route to vibrant and successful future cities lies instead in Smart Citizens.
//////////// SCREENINGS /////////////////
Aristofanis Soulikias | Last Dance on The Main (2014), Canada, 4 min
French and English with English subtitles
An animated documentary on the demolition of a row of historic buildings on Montreal's St Laurent boulevard – also known as "The Main" – by politicians and building developers, and the resistance put up by the burlesque artists and the local community.
Biermann, Fiene Scharp, Kai Miedendorp | The Astronaut's Ark (2013) Germany, 5 min
An astronaut wakes up and sets out to explore his surroundings: the "city of art" is revealed to him, up in the top-most space, like a stage set within a stage set.
Michael Najjar | The Invisible City (2004) Germany, 15 min
This is an exploration of the way global cities will develop in the future. Of similar magnitude to the impact of the industrial revolution in the late 19th century, it is now computer networks and the information society based on them which are the main vehicles for change, the key elements transforming the face of our urban living spaces. The digital fusion of panoramic views taken from different angles transforms the landscape into a woven fabric of relationships. The work shows the endless ocean of information, an all pervasive network. A compression of space and time evoking intense and constantly growing global inter- connectivity. The megacities New York, London, Berlin, Paris, Tokyo, São Paulo, Shanghai and Mexico City are appearing in the video.
Jeff Desom | Rear Window Timelapse (2012), Luxemburg, 3 min
Extraction of film footage from Hitchcock's classic Rear Window shot from Jimmy Stewart's point of view, stitched together and reconstruct on a single plane.
Anouk De Clercq | Building (2003), Germany, 11 min 36 second
Shafts of light and the camera are moving through the dark as in a glissando. Flat, sharply cut forms appear in black-and-white and high definition. They feel their way along expanses of wall, opening up storeys, windows and doors, and break down on floors, stairs and columns. In this way, according to a controlled choreography upheld by the music of Antoni Aeki, a truly architectural experience is created on the screen.
Jan Fabre | Tivoli (1990), 4 min 54 second
The humble Bic pen is Fabre's most famous artistic means; it is an object and sign material that is normally associated with the refinement of the art, but it has in terms of development and materiality of a unique, surprising character. The sticky, shiny metallic ink has the same color as the blue hour 'exactly when the night turns into day and awakens nature. The slightly iridescent sheen of a bebict surface reminiscent of the shiny beetle shields that play such an important role elsewhere in Jan Fabre's oeuvre. With Bic ink, Jan Fabre with patience countless objects and surfaces to life, an expression of the persevering, heroic sisyphusarbeit of the artist.
/////////////////////////////
Friday 17th May | 12pm Talks | 1pm – 4pm drop in screening programme
Neil Butler (UZ Arts) |  The People's Tower; Dundee's Royal Arch
The People's Tower, presented by Dundee Institute of Architects and Claire Dow, uses Olivier Grossetete's public engagement and architectural creativity to bring the people of Dundee together. They'll recreate the iconic Royal Arch out of a cardboard before toppling it and trampling its remains.The original structure was built to commemorate the visit of Queen Victoria and her husband, Prince Albert, in 1844. This cardboard version is part of the annual festival Ignite Dundee and Year of Architecture 2016, and takes place 28-29 May.
UZ Arts work predominantly outdoors or in unconventional venues often with artists seeking to move out of their comfort zones across art-forms and across borders.
Jordan Geiger | Large Interaction Design and Research
Jordan Geiger's work crosses architecture and interaction design, considering implications of human computer interaction for social and environmental issues. He lectures, exhibits and publishes on theoretical research and on his projects, which frequently investigate globalization's design problems at many scales. Design research outcomes include buildings, objects, and landscapes proposals; but also written and graphic analyses, and technological investigations. http://www.jordangeiger.com
Jon Rogers | Connected High Street
Professor Jon Rogers holds a personal chair in creative technology at the University of Dundee.  His work explores the human intersection between digital technologies and the design of physical of things. He balances playful technologies with citizenship to find new ways to connect people to each other and to their data.
Kieran Baxter
Kieran Baxter is a Dundee based aerial photographer who has used kites, balloons and light aircraft to collect unusual and transformative views of Scotland's built heritage since 2007. This exhibition showcases a selection of recent images from above Tayside and Fife, revealing how the interplay of natural beauty and cultural heritage is written across this ancient landscape. Keiran is also involved in the digitisation of artifacts held in Dundee's Macmanus Museum and Galleries – scanning architecture/objects, virtual creations and real world, photo – from low tech to high tech, taking digital data from physical to virtual and back again.
//////////// SCREENINGS /////////////////
Elizabeth Lo | Hotel 22 (2014), USA, 8 min
When Bus 22 has completed its route through the smart streets of Silicon Valley, the doors of the bus open for the homeless, with the bus driver as hotel manager.
Matt McCormick | The subconscious art of graffiti removal (2002), USA, 16 min
Emerging from the human psyche and showing characteristics of abstract expressionism, minimalism and Russian constructivism, graffiti removal has secured its place in the history of modern art while being created by artists who are unconscious of their artistic achievements. It is no coincidence that funding for 'anti-graffiti' campaigns often outweighs funding for the arts. Graffiti removal has subverted the common obstacles blocking creative expression and become one of the more intriguing and important art movements of our time.
Alistair Oldham | Bonnington Square (2014), UK, 21 min.
Short film about the history of this small neighbourhood in the heart of London, which was squatted in the 1970s and benefits to this very day from an independent community.
Jan van de Pavert | Een Huis (1993 – 1996), Netherlands, 7 min 18 second
'Een huis' ('A house') is Van den Pavert's first computer animation and it suggests that we move through an imaginary, architectural space. At the time creating computer animations was complicated and expensive. To improve the realistic representation Van den Pavert experimented with the speed of movement and worked with multiple textures. The rendering process made objects to look plastic-like surface, so Van den Pavert developed a method for including photo's of different textures and rendered the walls transparent to create more warmth. Consequently, it took almost a year to render the animation and errors could not be corrected afterwards.
Vincent Meessen | Dear Adviser (2009), Netherlands, 8 min
A man in a black suit – almost a silhouette – is walking through a desolate landscape. Crows fly up flutteringly when he approaches, the earth turns red in the evening sun and a bird of prey circles high up in the sky. The man takes us for a walk along deserted modernistic buildings that bear the marks of time. The camera explores this landscape, searching for clues as to time and place. With his black suit, bow tie and bowler hat, the walker looks like Le Corbusier, the creator of this city. As if after his demise he is taking stock of what he has accomplished and wants to see what is left of his ideas, ideals, dreams and desires fifty years on.
/////////////////////////////
Saturday 27th May | 12pm – 4pm | Talk & screening with Zoe Walker & Neil Bromwich
Followed by Drop-in workshop for all ages
Zoë Walker (b.1968) and Neil Bromwich (b.1966) are known internationally for their large-scale sculptural works, participatory events and exhibitions that invite audiences to imagine better worlds. Their ambitious, expansive art works re-ignite Utopian ideologies through the use of protest, pageant, celebration and contemplation, and have, at their core, a collective desire for an alternative way of living.
Walker & Bromwich's dual practice seeks to explore the space between 'what exists and what is possible'. Their distinctive, often idiosyncratic approach explores contemporary life's more perplexing and complex social, ecological, economic and political issues with humour and dexterity, while expressing their shared commitment to social cohesion, absurdist celebrations and the sublime.
Supported by Creative Scotland and Ignite Sparks