inCube Arts have just launched their second edition of inToAsia: Time-based Art Festival 2015 in New York this week. Organized by Chen Wei-ching, Joanne and curated by Wang Chun-Chi, Loredana Pazzini-Paracciani and Carol Yinghua Lu, the festival aims to continue its mission of exhibiting time-based art with perspectives from Asia. Three exhibition venues bring the Asia-based artists' works together in New York.
Retina of the Unconscious
On October 1, inToAsia: Time-based Art Festival 2015 opened with the exhibition Retina of the Unconscious, curated by Wang Chun-Chi. In physiology, the unconscious is referred to as the unacceptable thoughts and feelings that people have in their daily lives. The exhibition focuses the unsettled relation of consciousness and the unconscious. The works in Retina of the Unconscious explore the connection of eyes and ears, revealing the truth of being immediately present, here and now. Pursuing the same concept, the exhibition continues at inCube Arts SPACE, with a show featuring Taiwanese artist Ting Chaong-Wen's installations opening on October 2.
Architectural Landscapes: SEA in the Forefront
On October 3, Architectural Landscapes: SEA in the Forefront opens, accompanied by a talk with curator Loredana Pazzini-Paracciani and featured artist Prateep Suthathongthai. These contemporary artworks from Southeast Asia are rarely exhibited as a theme in an art festival in New York. Architectural Landscapes: SEA in the Forefront is a great opportunity to explore the ever-changing social, cultural and economic transformation of the SEA region as the result of urbanization. A screening as a part of Architectural Landscapes: SEA in the Forefront will be shown on October 4 at the Museum theater. Artists not only reflect the changes in the societies in SEA countries such as Cambodia, Vietnam, Thailand and Singapore, but also attempt to challenge the definition of cultural identity in those countries.
Cause Commune (Common Cause)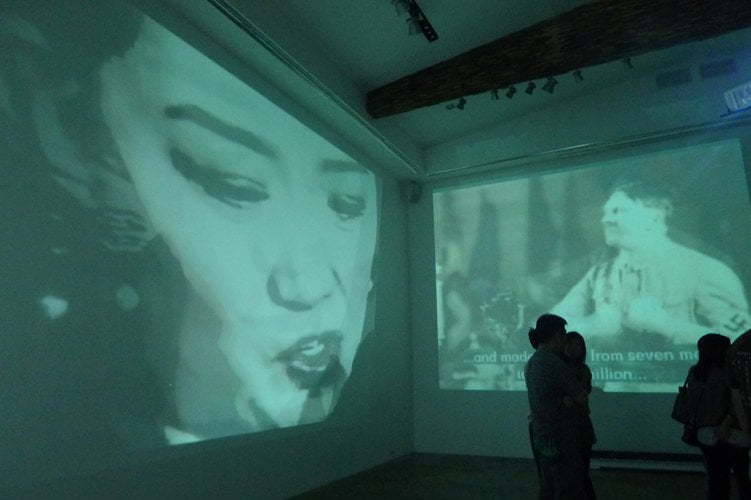 On October 4, a screening programme entitled Cause Commune (Common Cause), curated by Carol Yinghua Lu, will present video works of artists from different Asian countries including China, Korea, Taiwan, Japan and the Philippines. Having taken its title from a short-lived journal called Cause Commune, founded by three French scholars in 1972, this programme includes works that embody a dissatisfaction with and an incessant curiosity and urge to inquire into given orders of life, phenomenon, common experience, assumptions and established historic accounts and power structure. These works speak about attempts to look into those layers of folds, caves and undercurrents that were neglected or repressed by existing social orders, appearances and organization of life.
inToAsia: Time-based Art Festival 2015 is the one and the only art festival dedicated to Asian time-based art in North America, gathering a group of time-based artwork, including videos, short film, kinetic installations and real-time sound art performances by 27 artists from Taiwan, Japan, Korea, China, Canada, United States, Singapore, Thailand, Vietnam, Cambodia and Philippines. These artists, with varying cultural and social backgrounds, reflect on their life experiences in relation to the worldwide social issues associated with a global culture, and how this affects the dynamics of the rising East Asian cities as a whole.
Participating artists: Apichatpong Weerasethakul / Audrey Chen / Bo Kyung Suh / C. Spencer Yeh / Chang Wen Hsuan / Chihiro Minato / Chulayarnnon Siriphol / Donna Ong / Guan Xiao / Hao Ni / Ho Tzu Nyen / Joon Kim / Khvay Samnang / Kim Hak / Kuo I-Chen / Le Brothers / Liu Ding / Manny Montelibano / Meiro Koizumi / Nguyen Trinh Thi / Prateep Suthathongthai / Sejin Kim / Sok Chanrado / Tao Ya-Lun / Ting Chaong-Wen / Yi Xin Tong / Yuichiro Tamura
Programs
Exhibition I: Retina of the Unconscious
October 1–24, 2015 
Curator: Wang Chun-Chi 
Opening/artist & curator talk: October 1, 6–8pm 
The Sylvia Wald + Po Kim Art Gallery
417 Lafayette Street, 4th floor, New York, NY 10003
Exhibition II: Retina of the Unconscious
October 1–24, 2015 
Curator: Wang Chun-Chi
Opening: October 2, 6–8pm 
inCube Arts SPACE
314 West 52nd street, #1, New York, NY 10019
Exhibition III: Architectural Landscapes: SEA in the Forefront
October 3–31, 2015
Curator: Loredana Pazzini-Paracciani
Opening/Artist & Curator Talk: October 3, 1:30–5pm 
The Queens Museum—Partnership Gallery
New York City Building, Flushing Meadows Corona Park, Queens NY 11368
Film screenings: October 4, 1–5pm
Curator: Loredana Pazzini-Paracciani, Carol Yinghua LU
The Queens Museum Theater
New York City Building, Flushing Meadows Corona Park, Queens, NY 11368
Sound performances: October 24, 3–5pm
Performances by Audrey Chen / C.Spencer Yeh / Hao Ni / Yi-Xin Tong 
Artist & curator talk : October 24, 5–6pm
Talks by Wang Chun-Ch / C.Spencer Yeh / Audrey Chen 
The Sylvia Wald + Po Kim Art Gallery
417 Lafayette street 4th floor, New York, NY 10003
Organized by: inCube Arts
Sponsored by: Ministry of Culture, R.O.C. (Taiwan), Taipei Cultural Center of TECO in New York, The Taipei City Department of Cultural Affairs, Jim Thompson Foundation, Rhema Events and Arts Services, DCA Art Consultant, 100 Tonson Gallery, Taiwanese American Arts Council
Exhibition support: The Queens Museum, The Sylvia Wald and Po Kim Foundation
Media Support: Singapore: Inside Out, APT Institute
Thanks to: SA SA BASSAC, Kraupa-Tuskany Zeidler (Berlin), Brooklyn Artist Studio, Mr. Jeremy Hu