NEoN are committed to working with our local community in Dundee. We believe Digital Art and Technology can have a positive impact on people, children and the community.  We have developed our outreach programme to include workshops, talks and activities through which we aim to inspire creativity, increase the understanding and generate interest in Digital Arts. 



Outreach Activities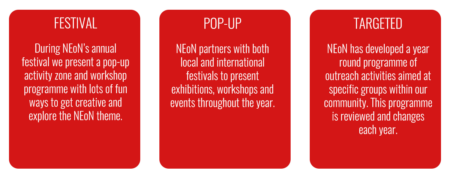 Past outreach projects

Please use the links below to view a selection of our past outreach activities:

CREATE:MOVE:CONNECT with Children's Art Week, 2020.

The Travelling Gallery with Boomerang Community Centre, Morrisons Dundee, and Baldragon Academy 2019.

Fractal Making Workshop with Dundee Science Festival, 2018.

More projects can be found in our Archive

Get Involved

At NEoN, we work hard to connect with the local community in Dundee. However, we are open to working with new partners or groups. To get involved or for more information about our outreach activities, please use our contact form, to start a conversation.